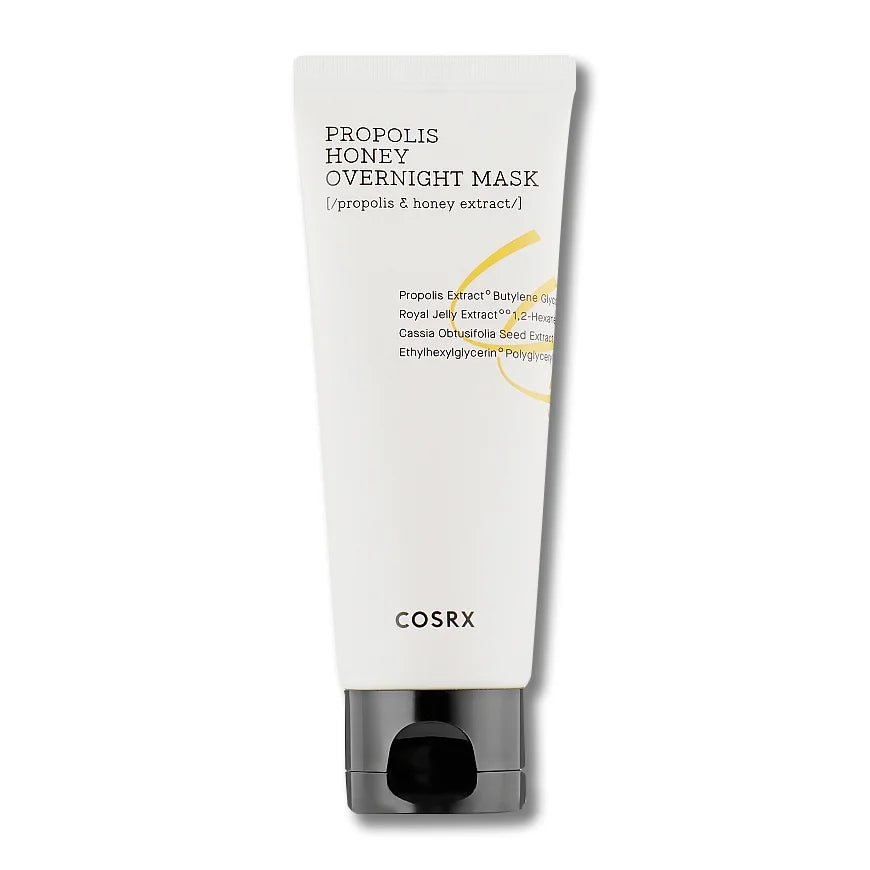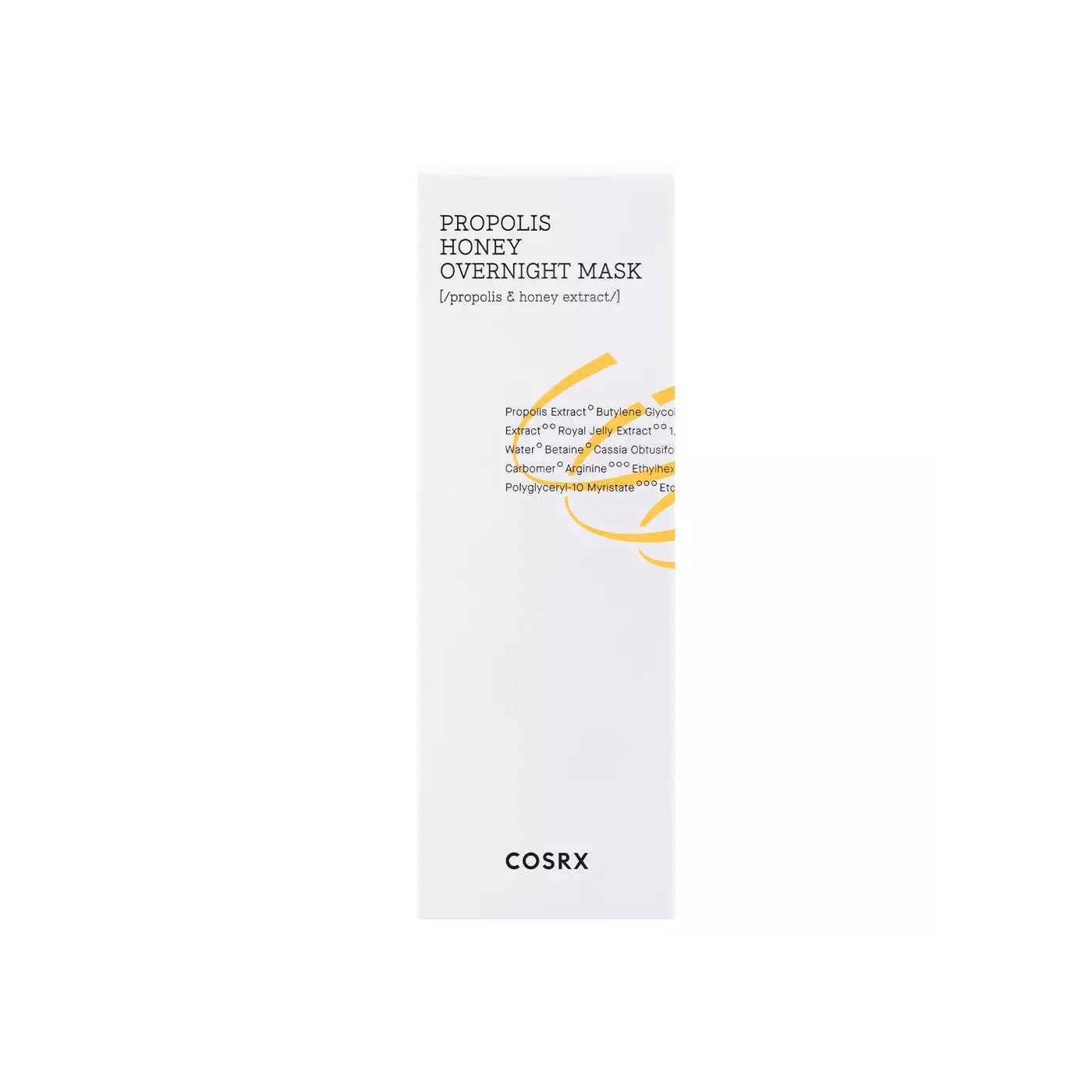 Cosrx Full Fit Propolis Honey Overnight Mask
Sale price

€22,50 EUR
Regular price
(€375,00/l)
---
A nourishing and revitalizing face mask
COSRX Full Fit Propolis Honey Overnight Mask is a versatile 3-in-1 skincare essential that deeply nourishes and revitalizes your skin. This lightweight and hydrating mask can be used as an overnight mask, cream, or wash-off mask for the ultimate flexibility in your skincare routine.
Formulated with a generous 70% Propolis Extract and natural beeswax, this face mask provides intense hydration and soothes stressed skin while reducing redness. Its gel-like texture feels refreshing and absorbs quickly, leaving your skin feeling rejuvenated. It's even great for cooling down sunburned or overheated skin, making it a must-have for all skin types.
At the heart of this nourishing formula is the Fill Fit Pro-Barrier Complex with propolis, honey, and royal jelly extract. These ingredients work together to keep your skin hydrated and firm throughout the night. Natural PHA honey acid gently exfoliates dead skin cells to promote a smoother, brighter complexion.
Whether you have sensitive, dry, or flaky skin with poor elasticity, or simply want a spa experience at home, this lightweight cream has you covered. Its clinically tested formula ensures it's gentle on the skin, making it suitable for sensitive skin types.
pH level: 6.5~1.0
Size: 2.02 fl. oz / 60 ml
Ingredients we love ♥
Propolis: Derived from bees, propolis is a natural resin with powerful antibacterial, anti-inflammatory, and antioxidant properties. It helps soothe irritated skin, reduce redness, and promote skin healing. Propolis is especially beneficial for acne-prone and sensitive skin.

Honey: A natural humectant, which means it attracts and retains moisture in the skin. It provides deep hydration, leaving skin soft and supple. Honey also has antibacterial properties that can help with acne and minor skin irritations.

Royal Jelly: A nutrient-rich substance produced by worker bees for the queen. It is packed with vitamins, minerals, and amino acids that can nourish and rejuvenate the skin. Royal jelly can help improve skin texture and overall complexion.

Allantoin: A gentle and effective skin-soothing ingredient. It promotes skin healing, reduces inflammation, and aids in skin regeneration. It's often used in products designed to soothe sensitive or irritated skin.

Adenosine: Known for its anti-aging properties. It helps improve the appearance of fine lines and wrinkles by stimulating collagen production in the skin.
Features & Advantages ♥
Cruelty-free
Paraben-free
Alcohol-free
Sulfate-free
Mineral-oil-free
Artificial coloring-free
Artificial fragrance-free
1. Use as a sleeping mask/night cream: At the last step of your night skincare routine, apply a generous amount of a nourishing booster to your entire face and neck.

2. Use as a wash-off mask: Gently massage the mask onto a freshly washed, damp face, avoiding the eyes and lips. Leave on for 10-15 minutes, then rinse the mask off with lukewarm water.

3. Use as a moisturizer: At the last stage of your regular morning face care routine, apply an adequate amount onto your face and pat gently to absorb.
Propolis Extract, Butylene Glycol, Glycerin, Honey Extract, Royal Jelly Extract, 1,2-Hexanediol, Water, Betaine, Cassia Obtusifolia Seed Extract, Carbomer, Arginine, Ethylhexylglycerin, Polyglyceryl-10 Myristate, Polyglyceryl-10 Laurate, Xanthan Gum, Helianthus Annuus (Sunflower) Seed Oil, Sodium Polyacrylate, Panthenol, Allantoin, Adenosine, Sodium Hyaluronate, Beeswax

Cosrx is currently one of the cult-favorites for Korean skincare brands focusing on practical and high-performance cosmetics for everyday skin concerns by using safe and natural ingredients.

The brand name stands for "Cosmetics" + "RX". RX is commonly used as a "prescription" in the pharmaceutical industry. This explains the brand's vision which is a mix of beauty and science!

The innovative company has been actively researching various skin types and their concerns for 10 years. They then went on to develop skin care products that cater to the needs of all skin types. Their products consist of minimal essential ingredients, in other words: low irritation but maximum functionality and effectiveness.

Since 2015, Cosrx has been developing clean beauty products that are made without 14 types of harmful chemicals such as parabens, sulfates and mineral oil.

Cruelty-free, dermatologically tested, hypoallergenic, and vegan-friendly options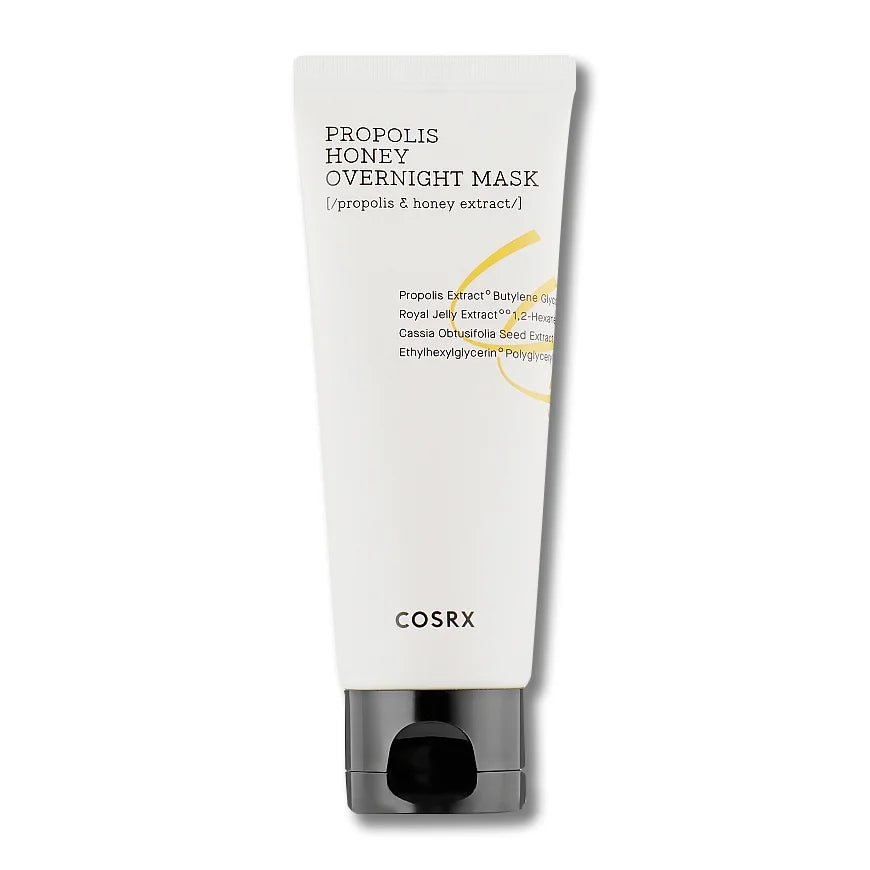 Cosrx Full Fit Propolis Honey Overnight Mask
Sale price

€22,50 EUR
Regular price
Choose options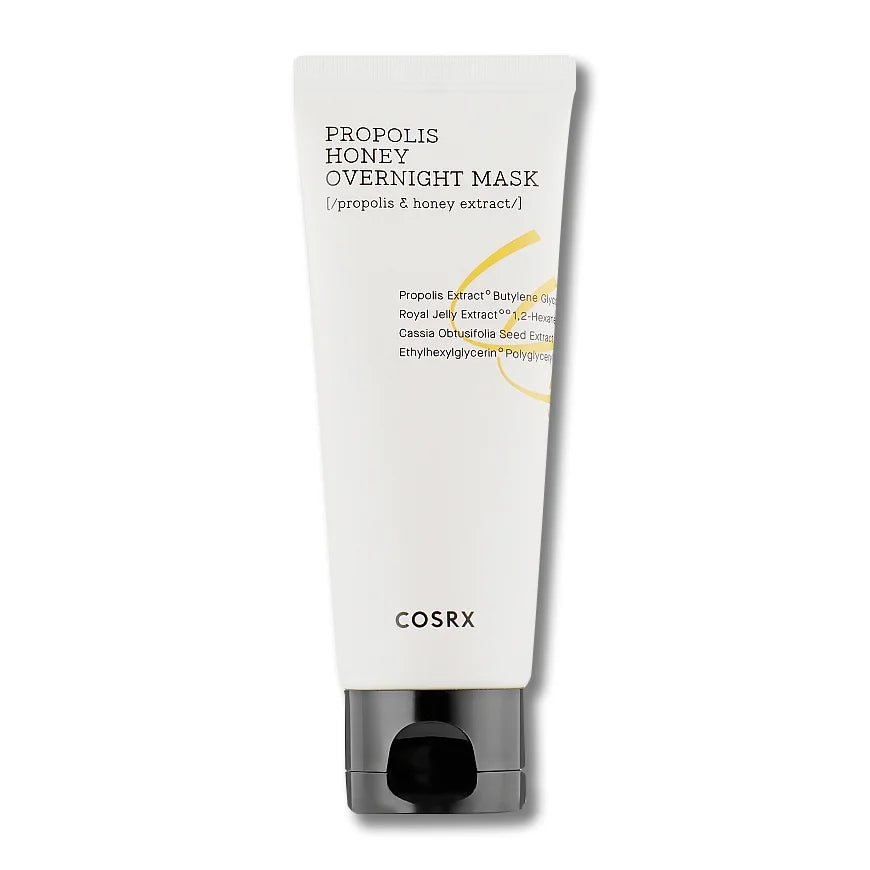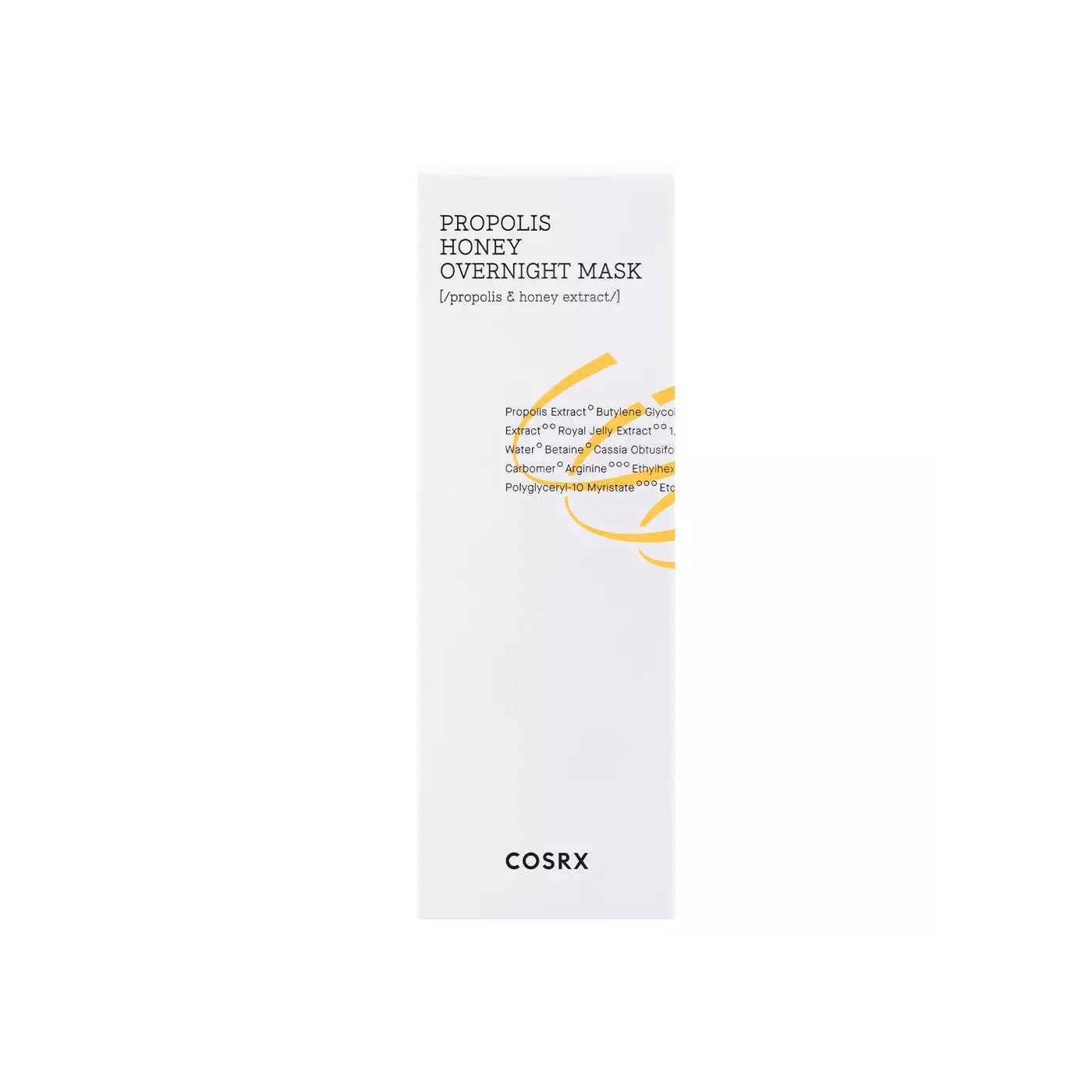 Surprisingly effective!
I've been using this product as an overnight mask and my skin feels much softer and smoother in the mornings. If you're on the fence about a honey mask, dont be! I'd highly recommend this product
good
i use this as a moisturizer for my nightime routine. this moisturizer is not sticky and not too heavy which is great! i have a sensitive skin and the propolis helps to calm any irritation on my face. it's very gentle, good for sensitive skin.