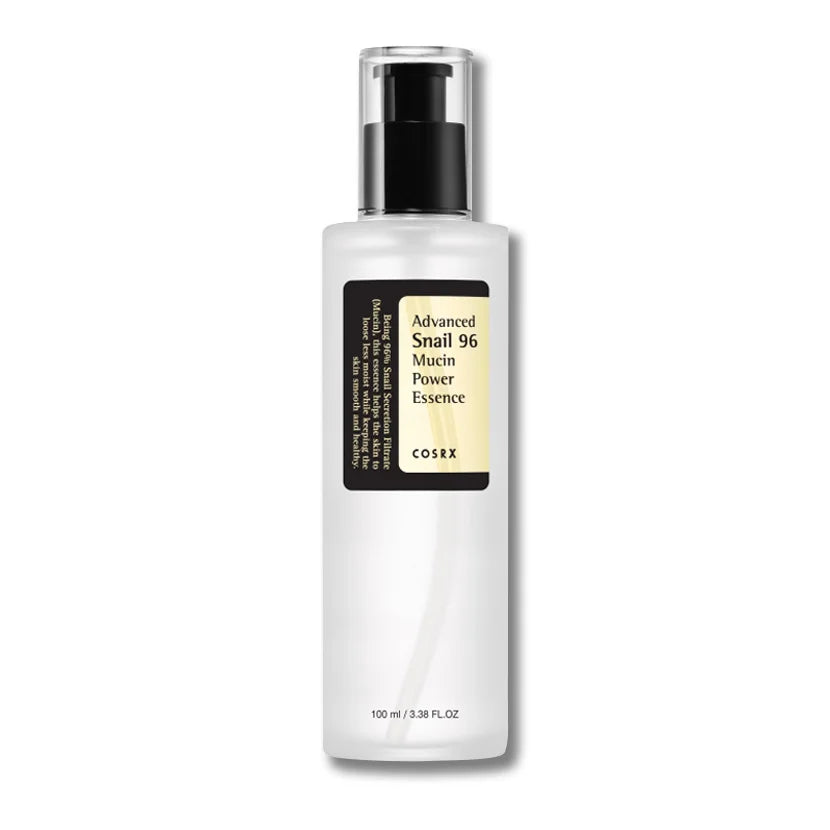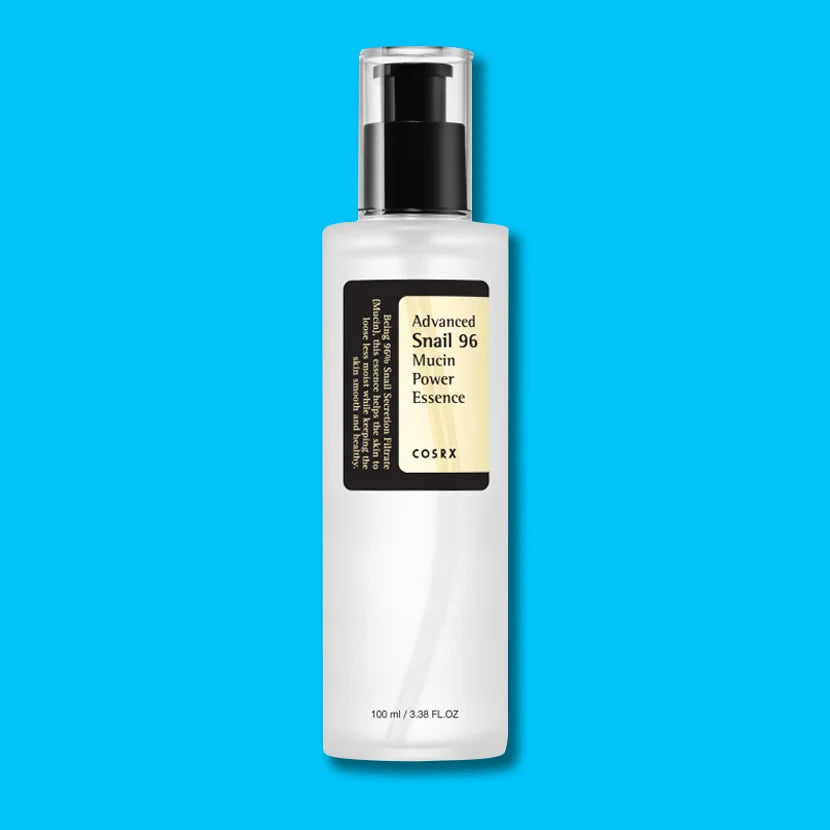 Cosrx Advanced Snail 96 Mucin Power Essence
Sale price

€19,50 EUR
Regular price
(/)
An intense repair anti-aging face essence
Cosrx Advanced Snail 96 Mucin Power Essence is your key to replenishing moisture and nutrients to help repair and smooth fine lines, wrinkles, redness, and acne scars.
Formulated with 96% Snail Secretion Filtrate, this potent essence is renowned for its anti-aging properties, effectively improving uneven skin tone and stimulating the production of collagen and elastin.
Snail mucin, packed with multivitamins, proteins, copper peptides, hyaluronic acid, and panthenol, works wonders for your skin. Its antimicrobial properties help keep acne-causing bacteria at bay while strengthening the skin barrier.
The lightweight formula glides on effortlessly, providing instant nourishment without a greasy or heavy feel. Follow with 92 All In One Cream to lock in the moisture and all the goodness of the product.
If you're a fan of the remarkable benefits of snail secretion filtrate, explore our Cosrx Advanced Snail Skincare Routine Set. Curated to harness the power of this skin-benefiting ingredient, the set offers a comprehensive approach to skincare. Suitable for all skin types, this set is your ticket to radiant, healthy-looking skin.
Size: 100 ml / 3.38 fl. oz
After using a face cleanser and toner, apply evenly to face and neck to provide and provide an extra boost of hydration under your moisturizer Use your ring fingers to gently pat the product in the remaining face essence.
Snail Secretion Filtrate, Betaine, Butylene Glycol, 1,2-Hexanediol, Sodium Polyacrylate, Phenoxyethanol, Sodium Hyaluronate, Allantoin, Ethyl Hexanediol, Carbomer, Panthenol, Arginine
Cosrx is currently one of cult skincare brands, focusing on practical, high-performance cosmetics for everyday skin problems, using safe, natural ingredients. The brand name is an abbreviation of "Cosmetics" + "RX". RX is commonly used as a "prescription" in the pharmaceutical industry. This explains the brand's vision, which is a blend of beauty and science!

For the past 10 years, this innovative company has been actively studying different skin types and their problems. It has then developed skin care products that meet the needs of all skin types. Their products are composed of a minimum of essential ingredients, in other words: minimal irritation but maximum functionality and effectiveness.

Since 2015, the global fan-based brand has been developing clean beauty products made without 14 harmful chemicals, including parabens, sulfates, and mineral oils. Their products are cruelty-free, dermatologically tested and hypoallergenic, and they offer a wide variety of vegan options.


Choose options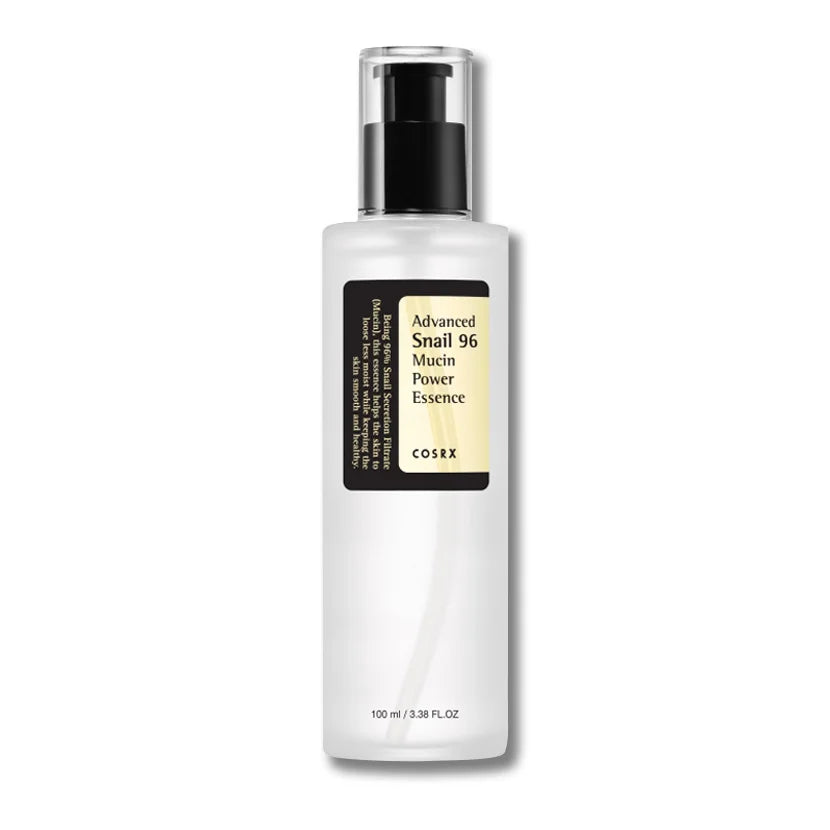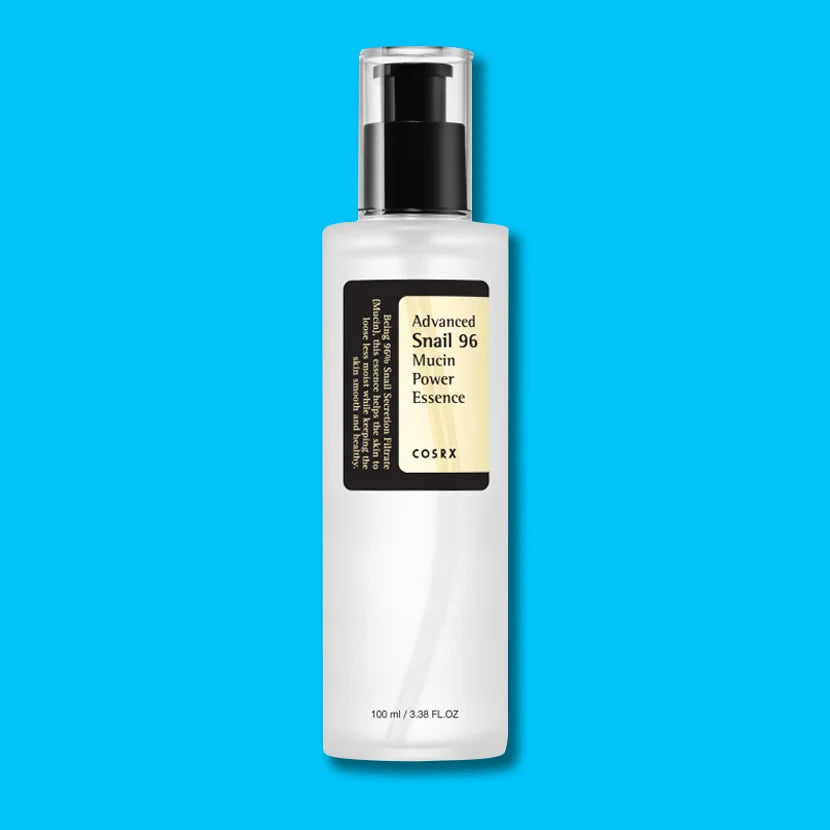 The best Korean essence
I always use this essence! THE BEST! You can't find anything better than this snail essence!
Skin looks great but its a bit sticky for me
The results are awesome but it took some time for me to get used to the texture and feel of snail. My first snail product - go figure. I mixed it with Aromatic Aloe Gel and it helped mask that feeling so I'm a happy camper
My skin looks so healthy!
I use the 10 steps Korean glass skin regimen and this is a crucial product. I have noticed that my skin is much more bright and even after using this. It really helps to heal acne scars and leave your skin looking and feeling healthier. It is a bit sticky and slimy, but you get used to it and it absorbs quickly into the skin. Id recommend for anyone looking to start a korean skin care routine.