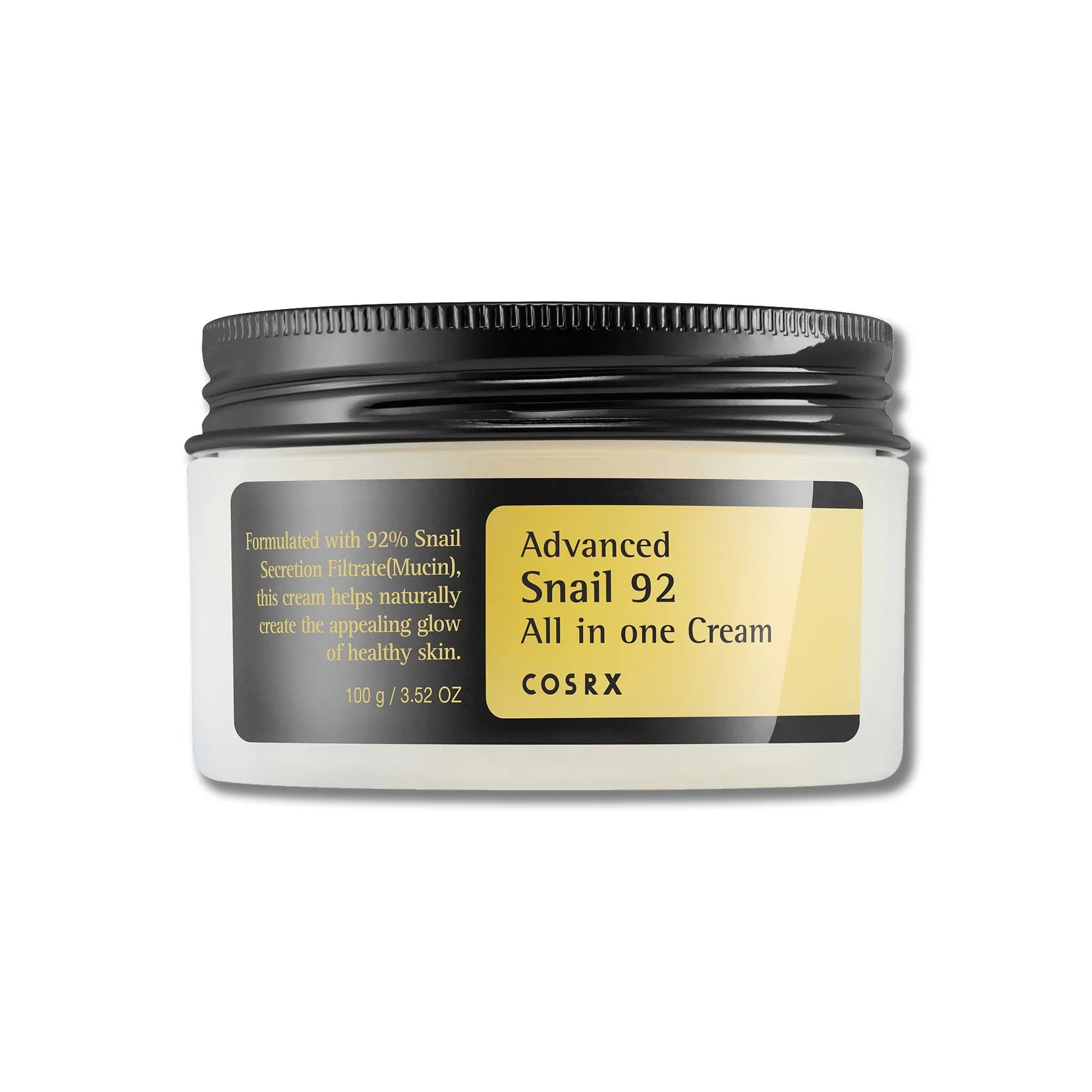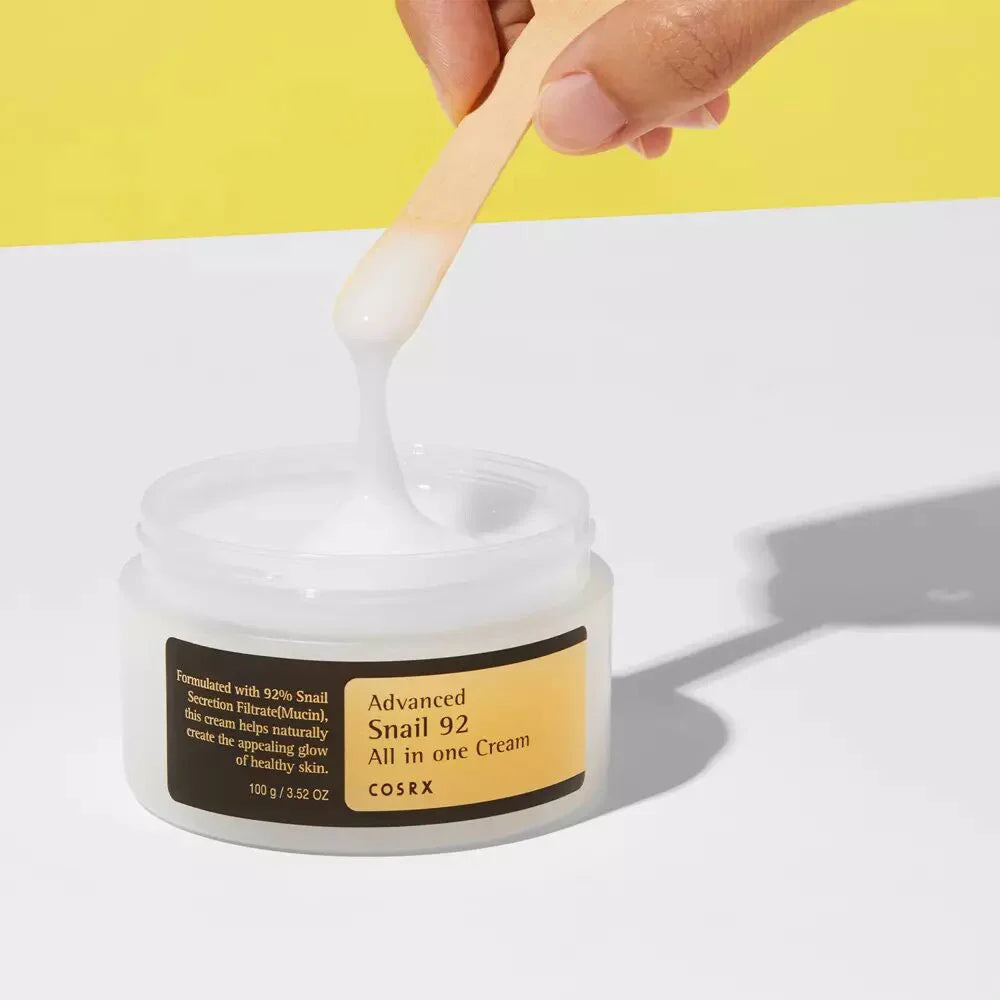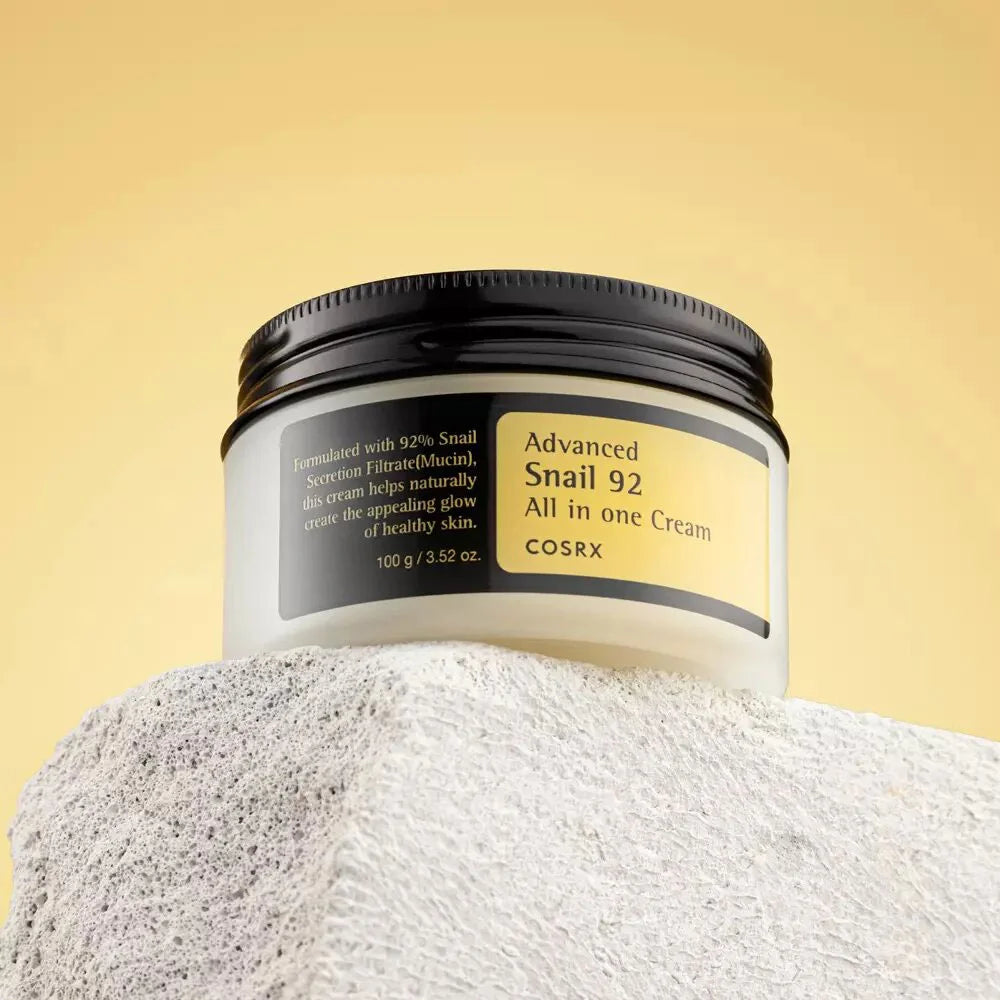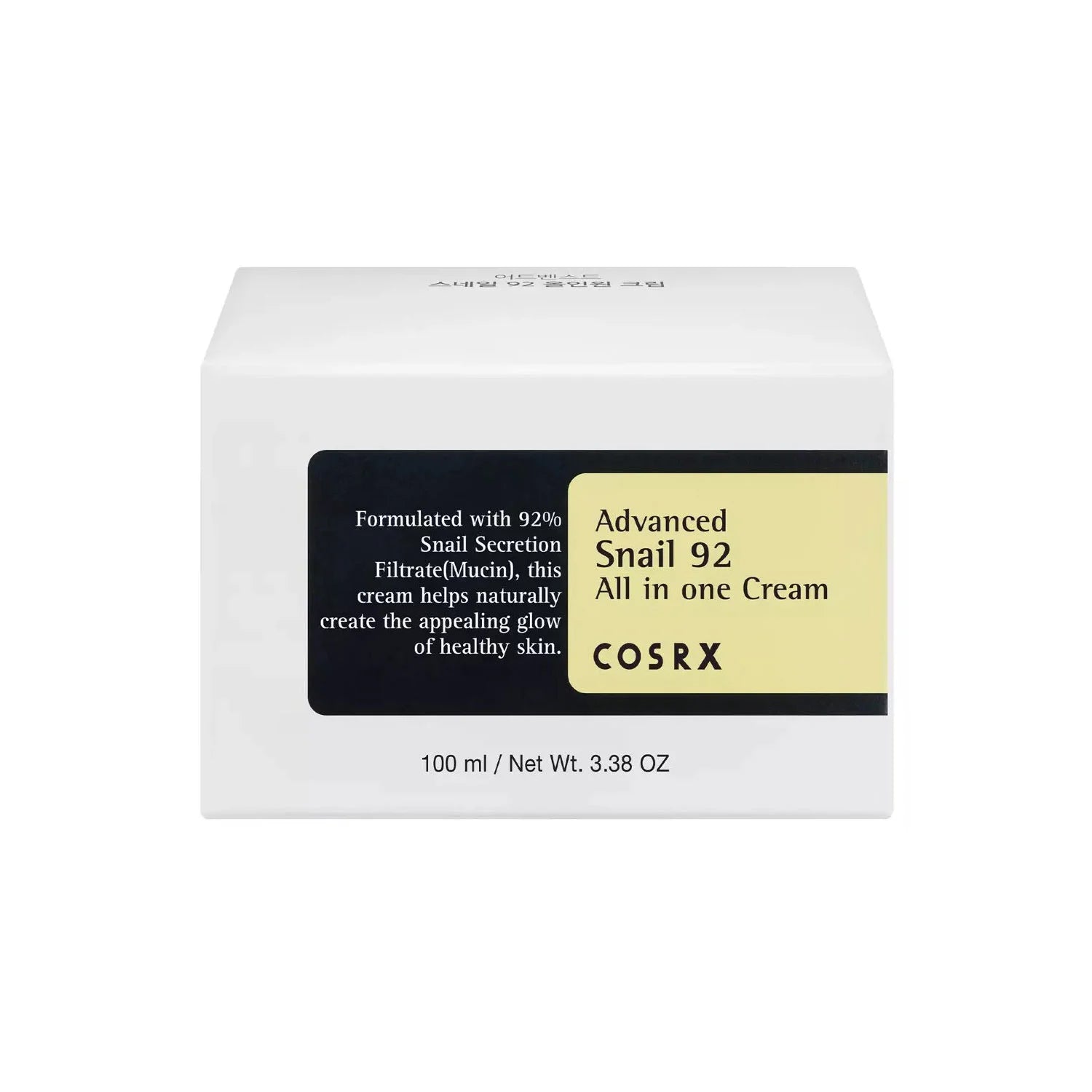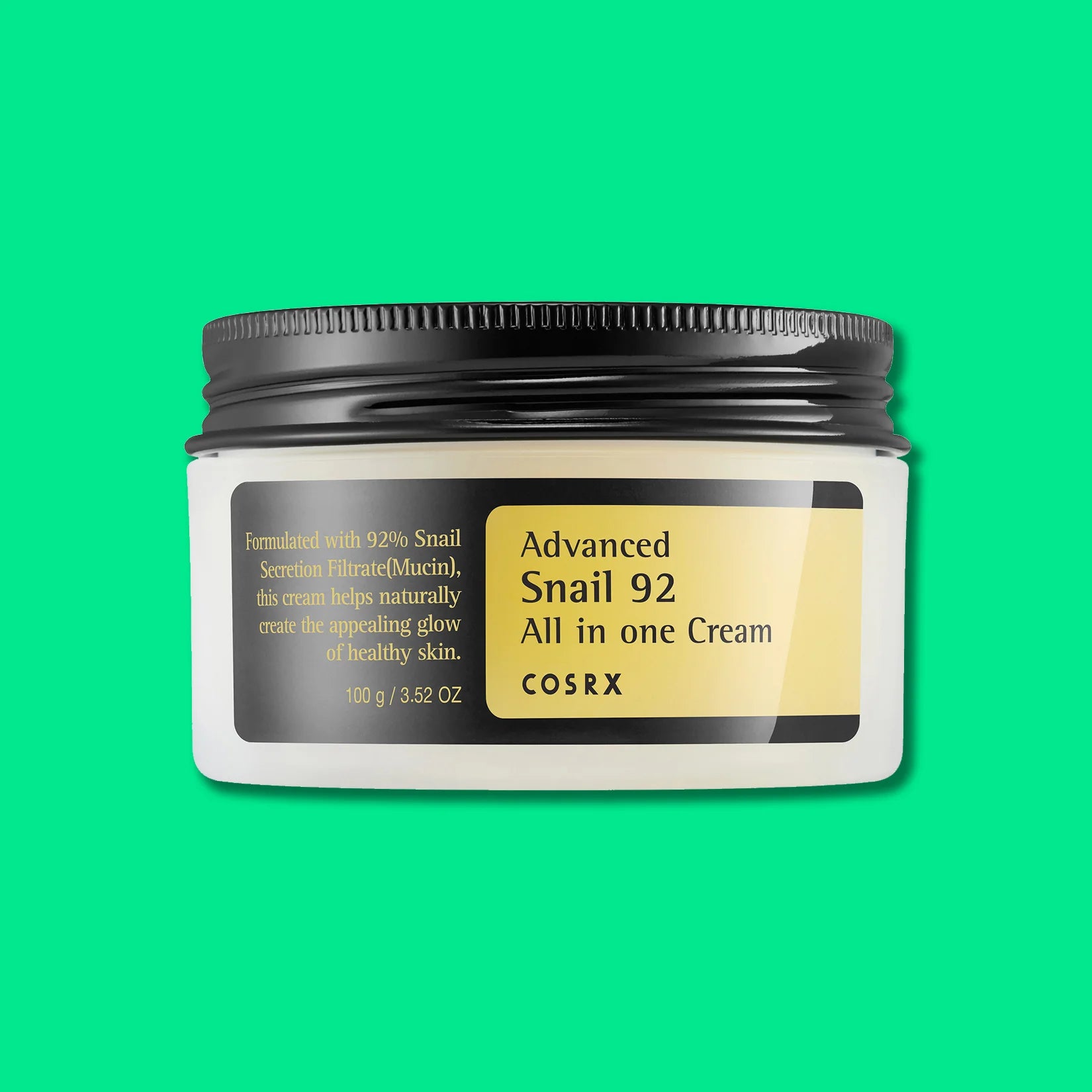 Cosrx Advanced Snail 92 All In One Cream
Sale price

€21,15 EUR
Regular price

€22,50 EUR
(€211,50/l)
---
The ultimate age-defying lightweight face cream
Cosrx Advanced Snail 92 All-In-One Cream is an exceptional anti-aging cream that harnesses the power of collagen, elastin, hyaluronic acid, and glycolic acid to rejuvenate your skin. With its potent 92% all-natural snail secretion filtrate, this lightweight moisturizer delivers remarkable results for a youthful and revitalized complexion.
Designed to nourish and repair, this cream works wonders on all skin types, including sensitive, oily, and acne-prone skin. The advanced formula helps calm irritation, reduce the appearance of fine lines and wrinkles, and restore skin's suppleness and elasticity.
Whether you're dealing with redness, dryness, rough skin, or dark spots, this cream addresses a wide range of skin concerns. The lightweight, gel-like texture of this cream glides on effortlessly to enhance your skin's natural radiance.
For optimal results, combine with the Advanced Snail Skincare Routine Set (also includes Snail 96 Mucin Power Essence and Peptide Eye Cream). This dynamic combination delivers a surge of hydration, plumping your skin and revealing a radiant, luminous complexion.
pH level: pH 5.5~1.0
Size: 3.38 fl. oz / 100 ml
Ingredients we love ♥
Snail secretion filtrate: Snail mucin provides exceptional hydration and skin regeneration. It helps repair skin damage, promote healing, and maintain a healthy, youthful complexion.
Panthenol: Also known as provitamin B5, panthenol is an excellent moisturizer and skin softener. It helps lock in moisture, leaving your skin soft and supple.
Allantoin: Known for its calming and soothing properties, allantoin helps reduce skin irritation and redness. It promotes a smoother and healthier skin texture.
Adenosine: Adenosine is known for its anti-aging benefits. It helps reduce the appearance of fine lines and wrinkles while improving skin elasticity.
Size: 3.38 fl. oz / 100 ml
Features & Advantages ♥
Cruelty-free
Paraben-free
Alcohol-free
Sulfate-free
Mineral-oil-free
Essential-oil-free
Artificial coloring-free
Artificial fragrance-free
At the last step of your face care routine, apply an adequate amount of nutrient-rich facial moisturizer onto face to hydrate, revitalize, and nourish your skin. Gently tap into the skin for better absorption.
Snail Secretion Filtrate, Betaine, Caprylic/Capric Triglyceride, Cetearyl Olivate, Sorbitan Olivate, Cetearyl Alcohol, Carbomer, Arginine, Dimethicone, Sodium Polyacrylate, Phenoxyethanol, Sodium Hyaluronate, Stearic acid, Allantoin, Panthenol, Xanthan Gum, Ethyl Hexanediol, Adenosine
Cosrx is currently one of the cult-favorites for Korean skincare brands focusing on practical and high-performance cosmetics for everyday skin concerns by using safe and natural ingredients.

The brand name stands for "Cosmetics" + "RX". RX is commonly used as a "prescription" in the pharmaceutical industry. This explains the brand's vision which is a mix of beauty and science!

The innovative company has been actively researching various skin types and their concerns for 10 years. They then went on to develop skin care products that cater to the needs of all skin types. Their products consist of minimal essential ingredients, in other words: low irritation but maximum functionality and effectiveness.

Since 2015, Cosrx has been developing clean beauty products that are made without 14 types of harmful chemicals such as parabens, sulfates and mineral oil.

Cruelty-free, dermatologically tested, hypoallergenic, and vegan-friendly options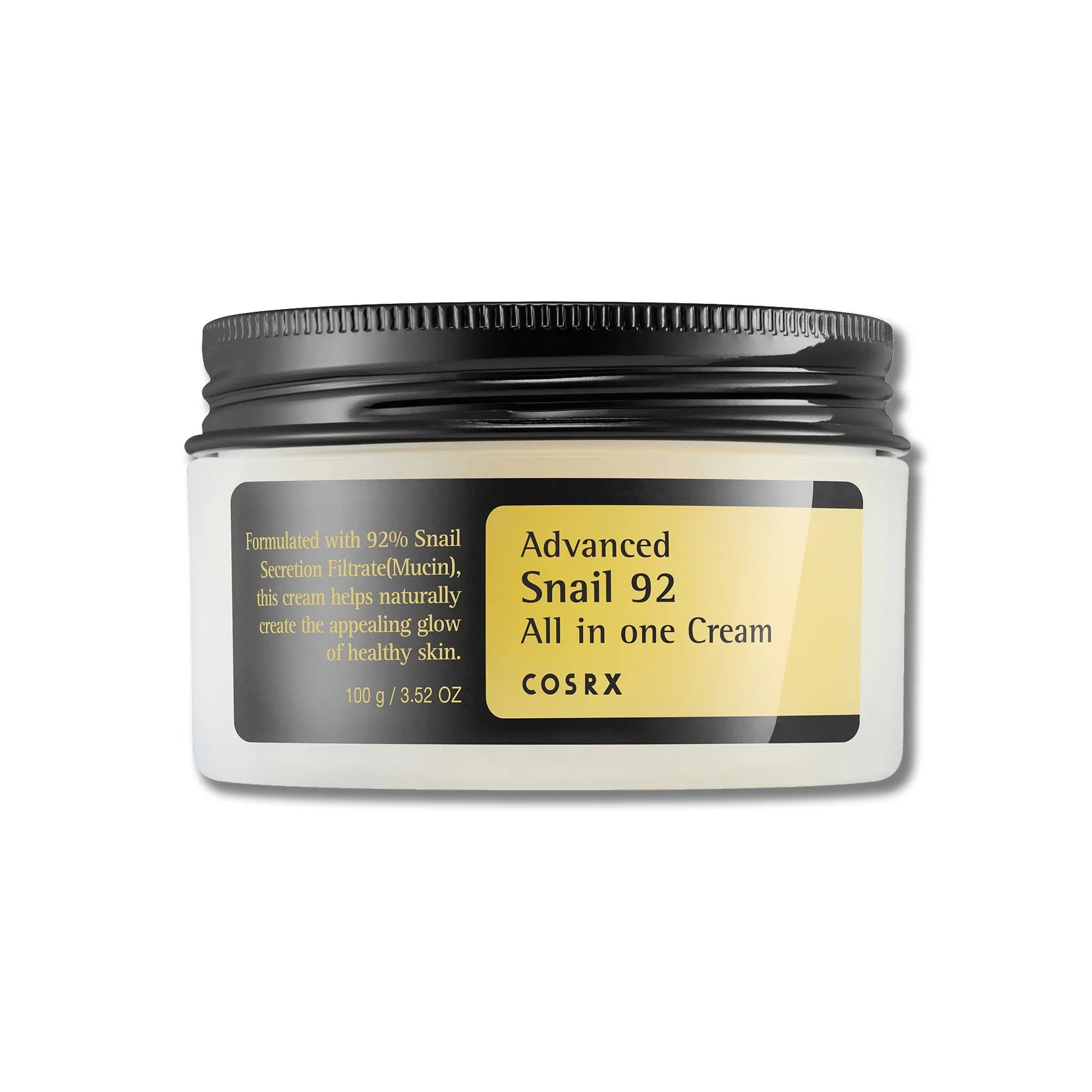 Cosrx Advanced Snail 92 All In One Cream
Sale price

€21,15 EUR
Regular price

€22,50 EUR
Choose options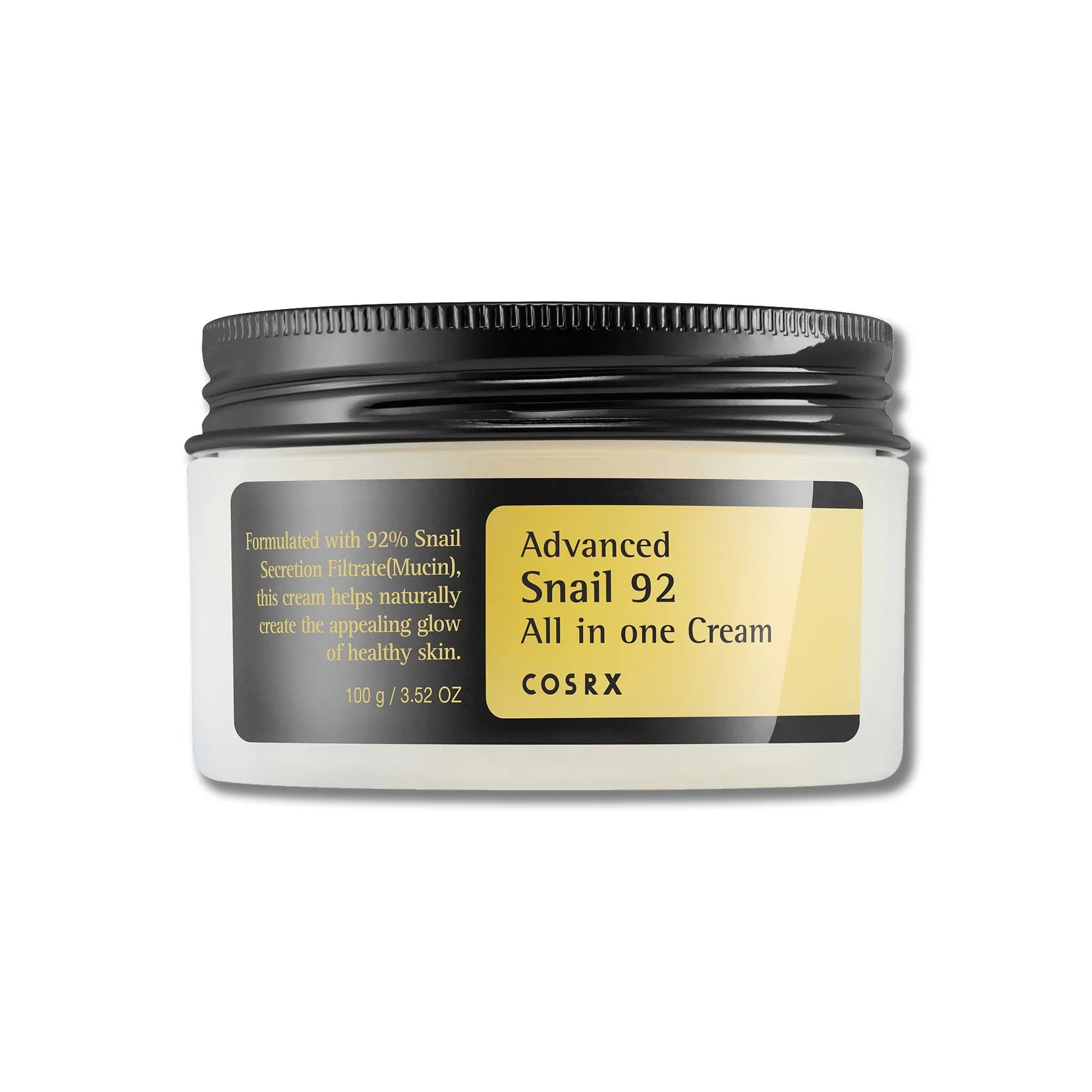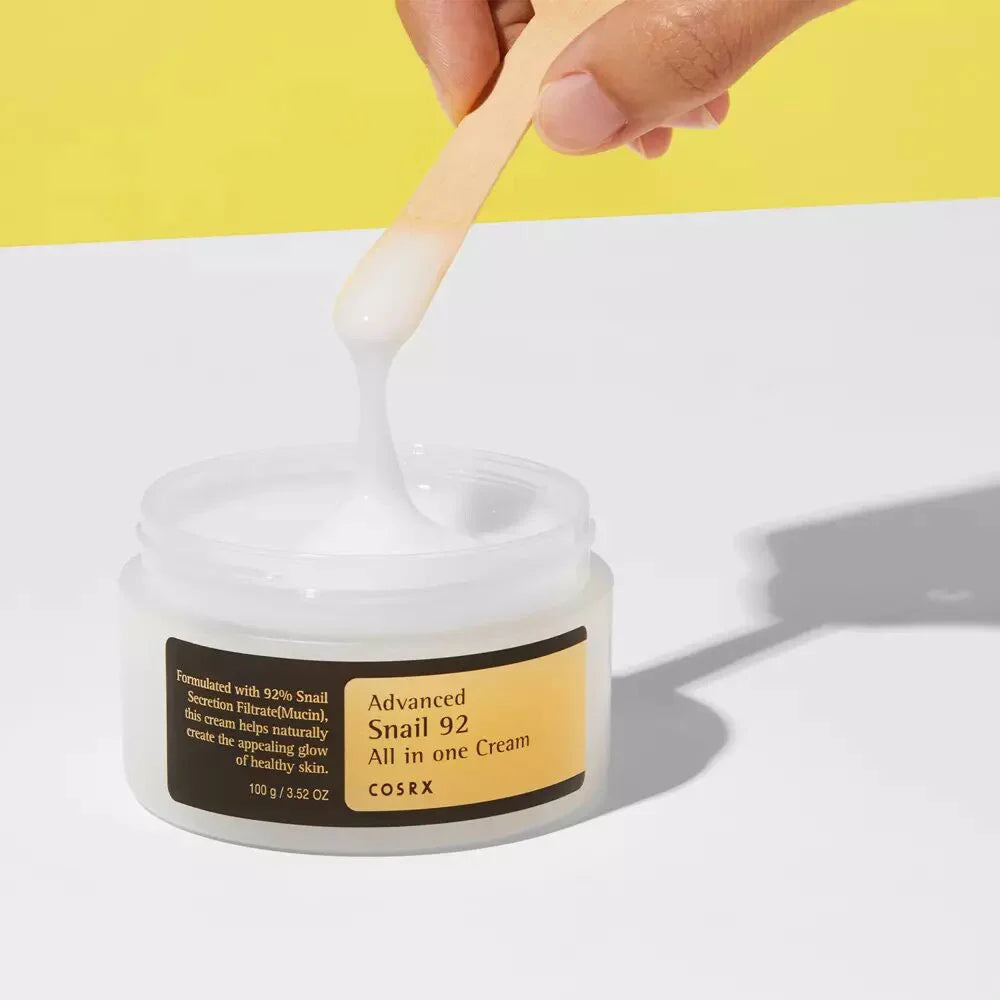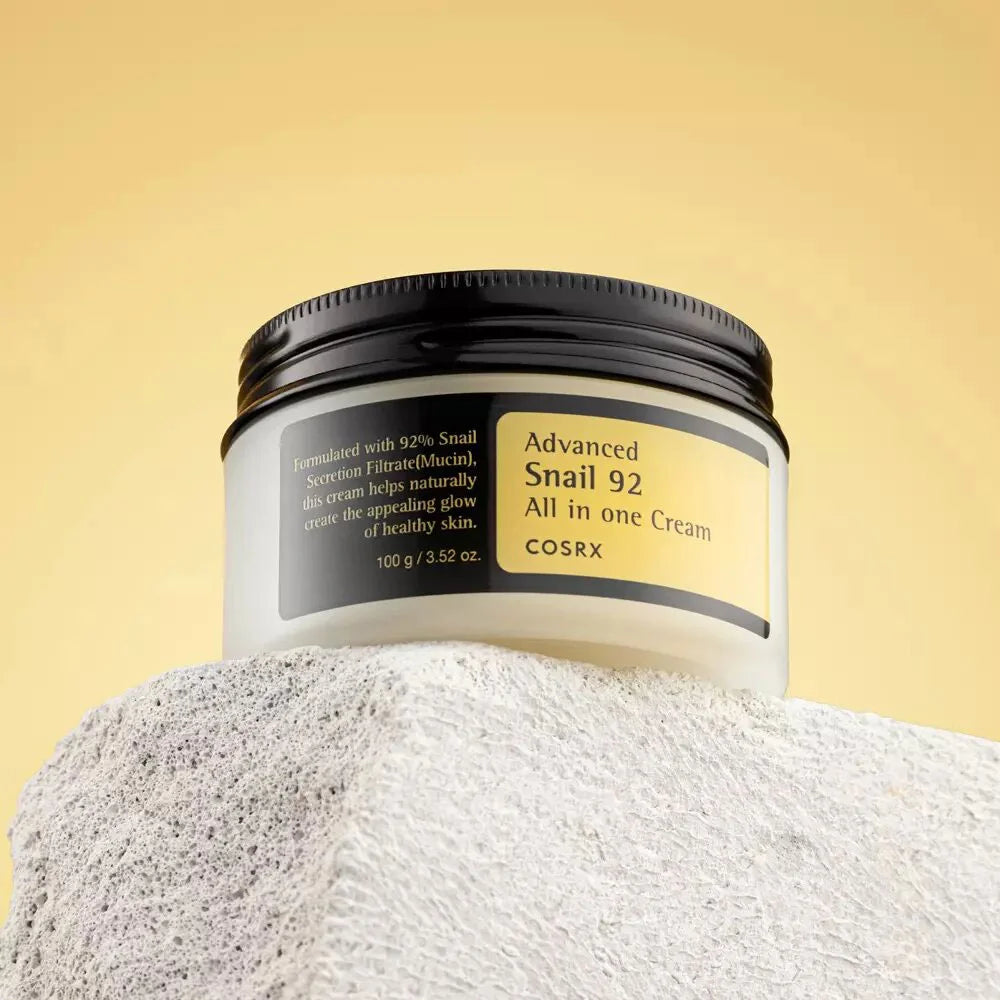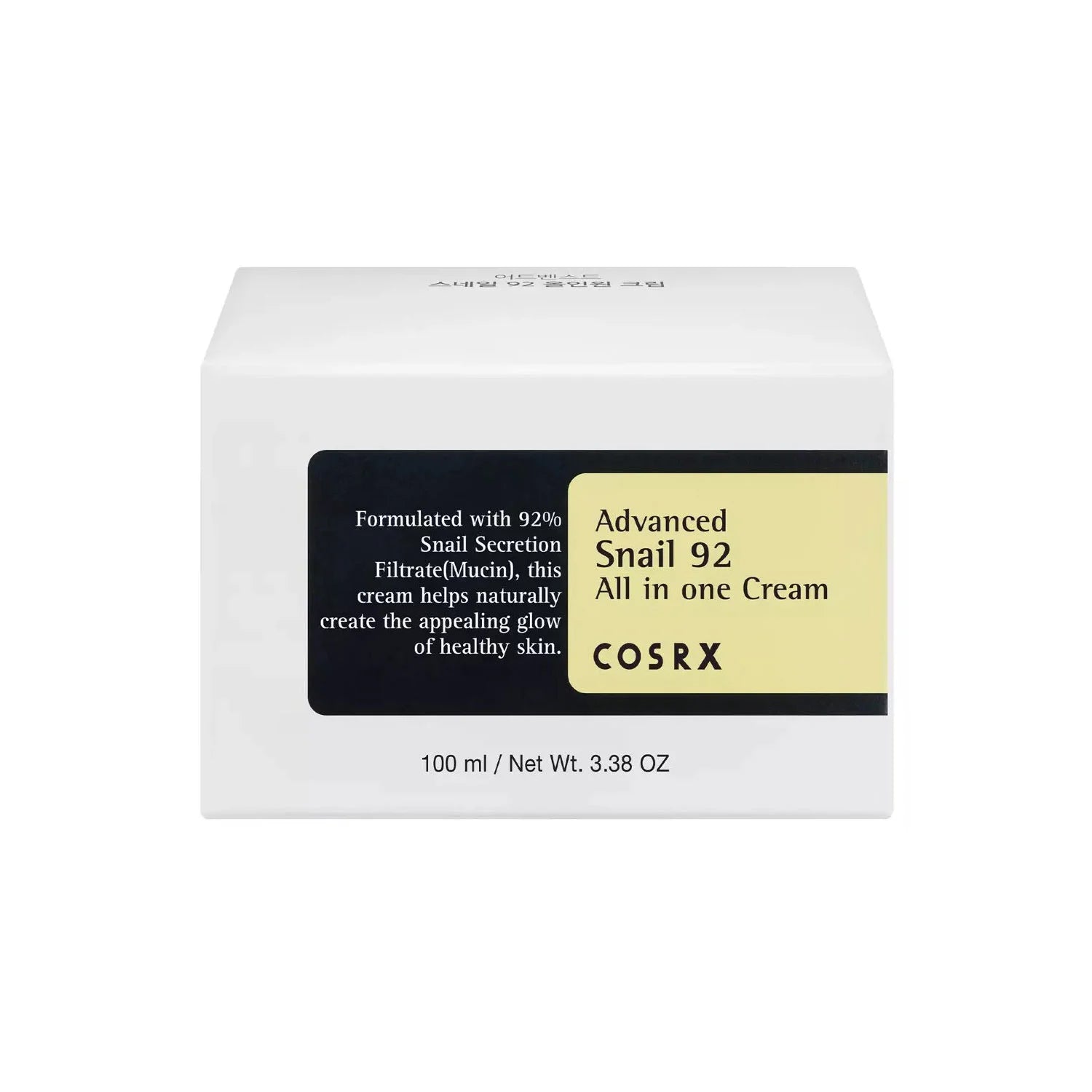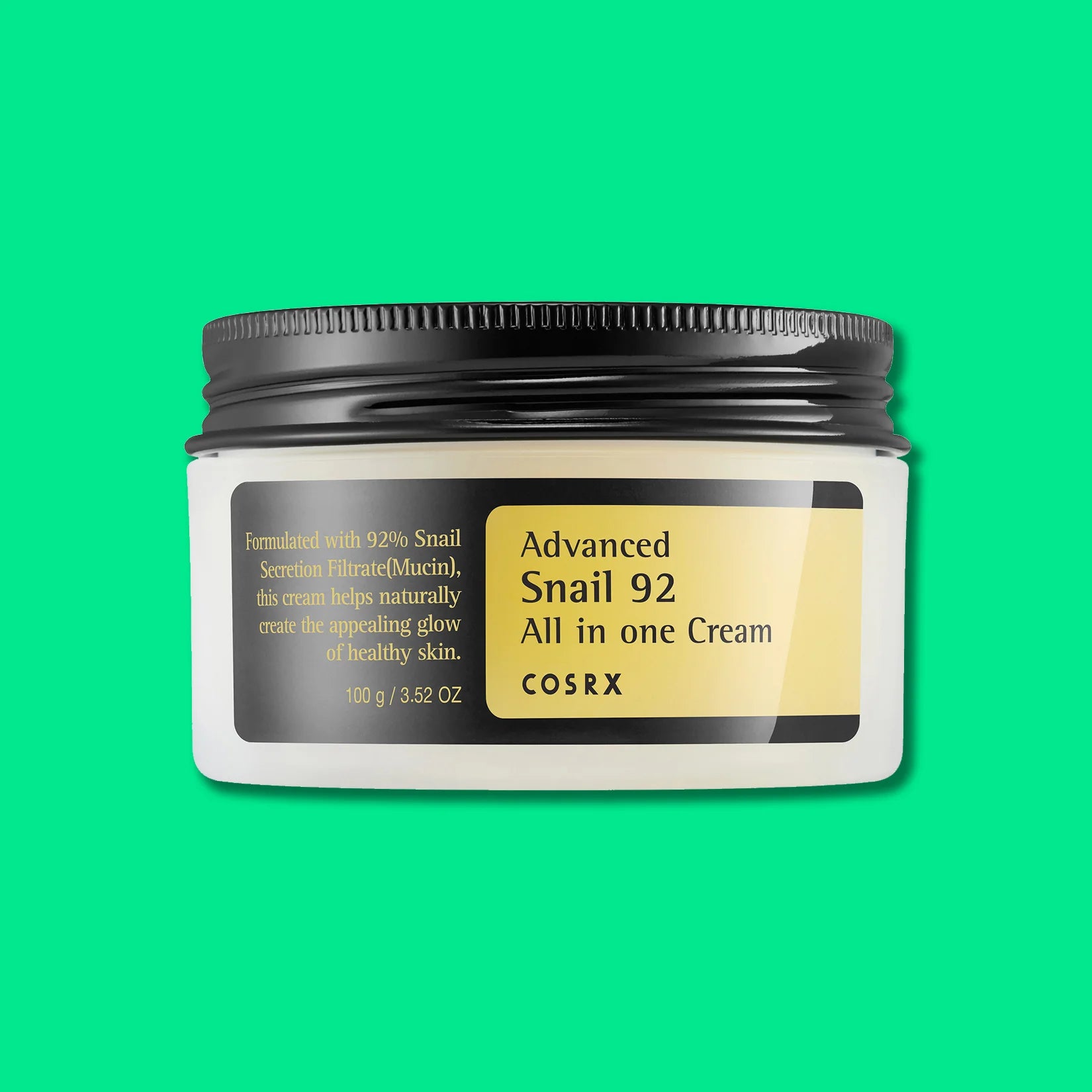 Sale price

€21,15 EUR
Regular price

€22,50 EUR
(€211,50/l)
---
View details
Great product
Just started using this product about a week ago. I really like the way my skin looks more moisturized and more smooth. I would like to try the serum as well. Love it!