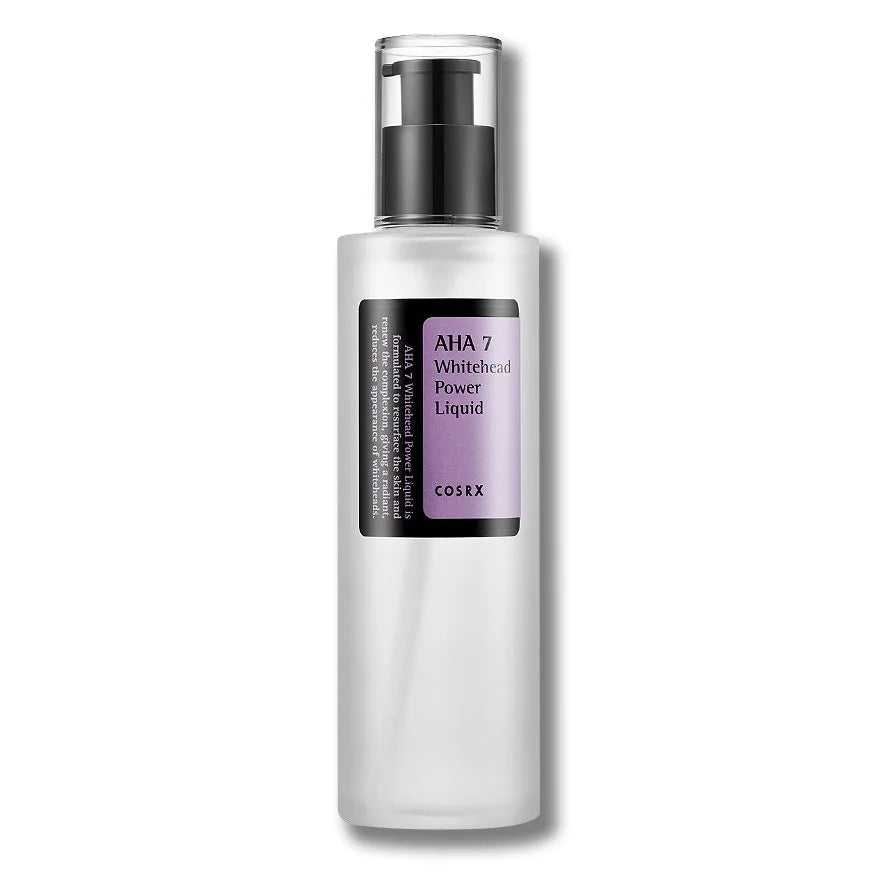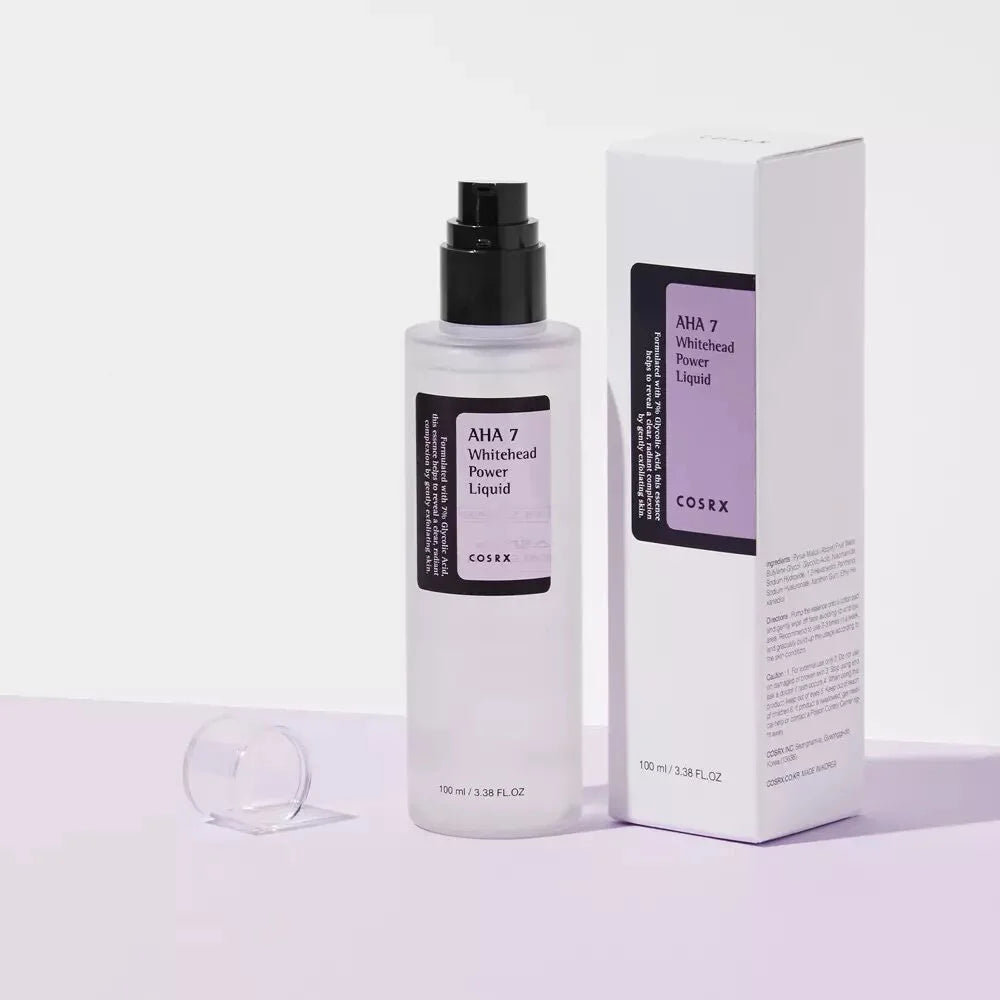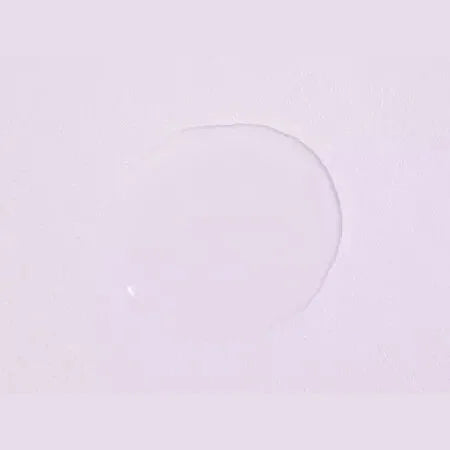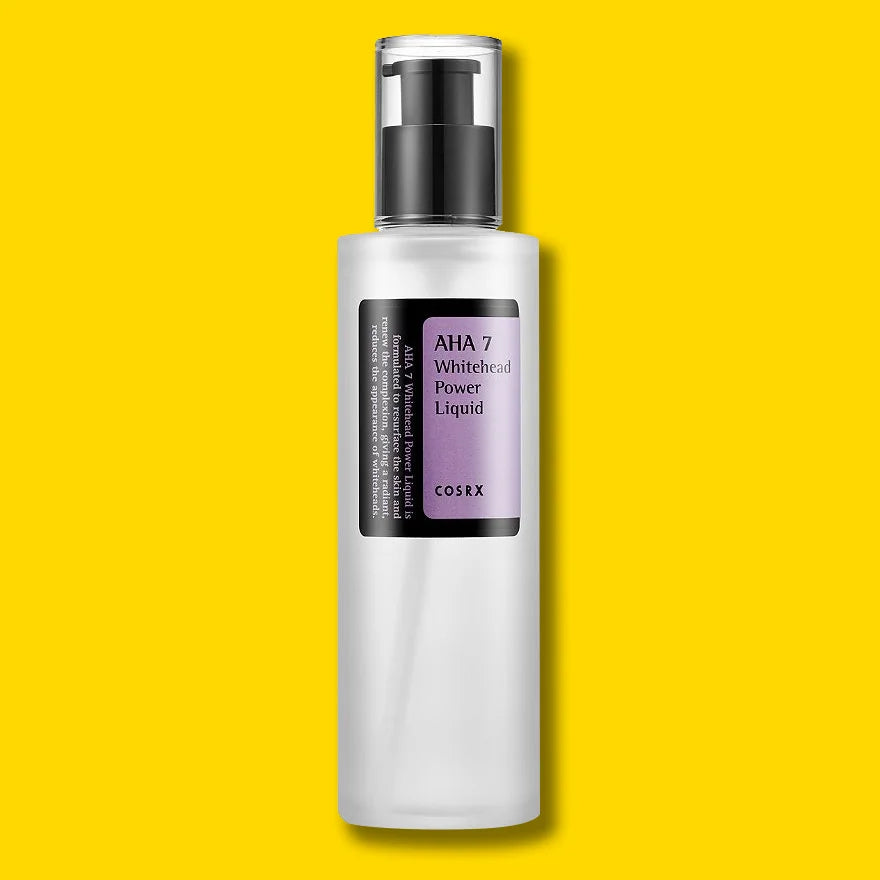 Cosrx AHA 7 Whitehead Power Liquid
Sale price

€18,00 EUR
Regular price
(€180,00/l)
---
A gentle yet effective exfoliator for dull and rough skin
Cosrx AHA 7 Whitehead Power Liquid is your all-in-one solution for problematic skin, including stubborn acne, hormonal breakouts, sun damage, and hyperpigmentation. This straightforward formula contains just 10 key ingredients, making it a powerful yet uncomplicated remedy.
At the heart of this fluid is a natural AHA derived from Pyrus malus (apple) fruit water, along with glycolic acid. Together, these ingredients gently exfoliate the skin's surface, effectively removing dead skin cells. The result is a reduction in fine lines, minimized pores, and faded acne scars.
Ideal for all skin types, including acne-prone and oily skin, this product addresses a range of concerns. It's especially effective on whiteheads, clogged pores, and hyperpigmentation. Say goodbye to stubborn skin problems and hello to a smoother, more vibrant complexion.
It also contains niacinamide, known for its brightening properties, which promote balanced, even skin tone and minimize hyperpigmentation and acne scars. This product works wonders for those with dull, rough skin, uneven texture, and dry or combination skin.
pH level: 4.00~5.00
Size: 3.38 fl. oz / 100 ml
Ingredients we love ♥
Pyrus malus (apple) fruit water: This ingredient provides a natural source of AHA (Alpha Hydroxy Acid) that gently exfoliates the skin, helping to remove dead skin cells and improve overall texture. It contributes to a brighter, more even complexion.
Glycolic Acid: An AHA that helps exfoliate the skin to reduce the appearance of fine lines, enlarged pores, and acne scarring. It accelerates the skin's cell renewal process, resulting in a healthier, clearer complexion.
Niacinamide: Also known as vitamin B3, it helps calm redness and irritation caused by strong exfoliants like retinol or glycolic acid that remove dead cells from the surface of your skin. This ingredient also provides the skin with essential nutrients for overall health.
Features & Advantages ♥
Hypoallergenic
Cruelty-free
Paraben-free
Ethanol-free
Silicone-free
Sulfate-free
Mineral-oil-free
Artificial coloring-free
Artificial fragrance-free
After cleansing, put an adequate amount onto fingertips or cotton pad and swipe a thin layer of the exfoliant over the skin, avoiding the eye and mouth area.

For use during the daytime, follow with a broad-spectrum sunscreen rated SPF 30 or greater. Begin with using the product once a week, and after the skin has adapted to it, increase the usage up to 2 to 3 times a week.

*Do NOT mix with high concentrations of AHA, BHA, retinol, or vitamin C products.
Pyrus Malus (Apple) Fruit Water, Butylene Glycol, Glycolic Acid, Niacinamide, Sodium Hydroxide, 1,2-Hexanediol, Panthenol, Sodium Hyaluronate, Xanthan Gum, Ethyl Hexanediol
Cosrx is currently one of cult skincare brands, focusing on practical, high-performance cosmetics for everyday skin problems, using safe, natural ingredients. The brand name is an abbreviation of "Cosmetics" + "RX". RX is commonly used as a "prescription" in the pharmaceutical industry. This explains the brand's vision, which is a blend of beauty and science!

For the past 10 years, this innovative company has been actively studying different skin types and their problems. It has then developed skin care products that meet the needs of all skin types. Their products are composed of a minimum of essential ingredients, in other words: minimal irritation but maximum functionality and effectiveness.

Since 2015, the global fan-based brand has been developing clean beauty products made without 14 harmful chemicals, including parabens, sulfates, and mineral oils. Their products are cruelty-free, dermatologically tested and hypoallergenic, and they offer a wide variety of vegan options.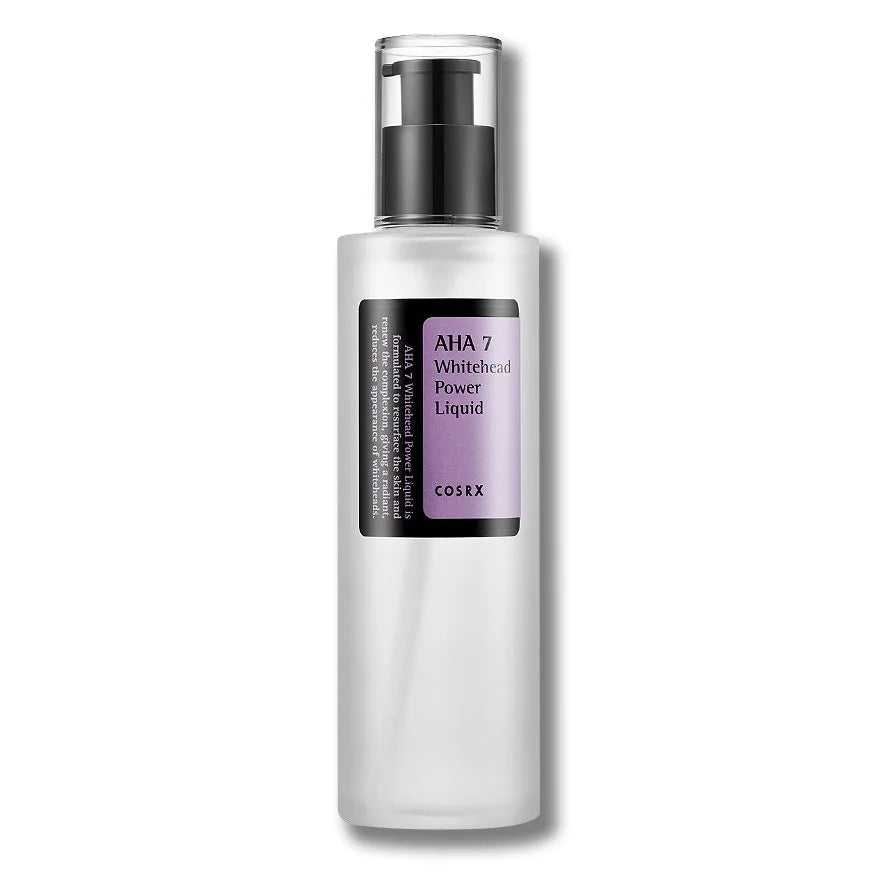 Cosrx AHA 7 Whitehead Power Liquid
Sale price

€18,00 EUR
Regular price
Choose options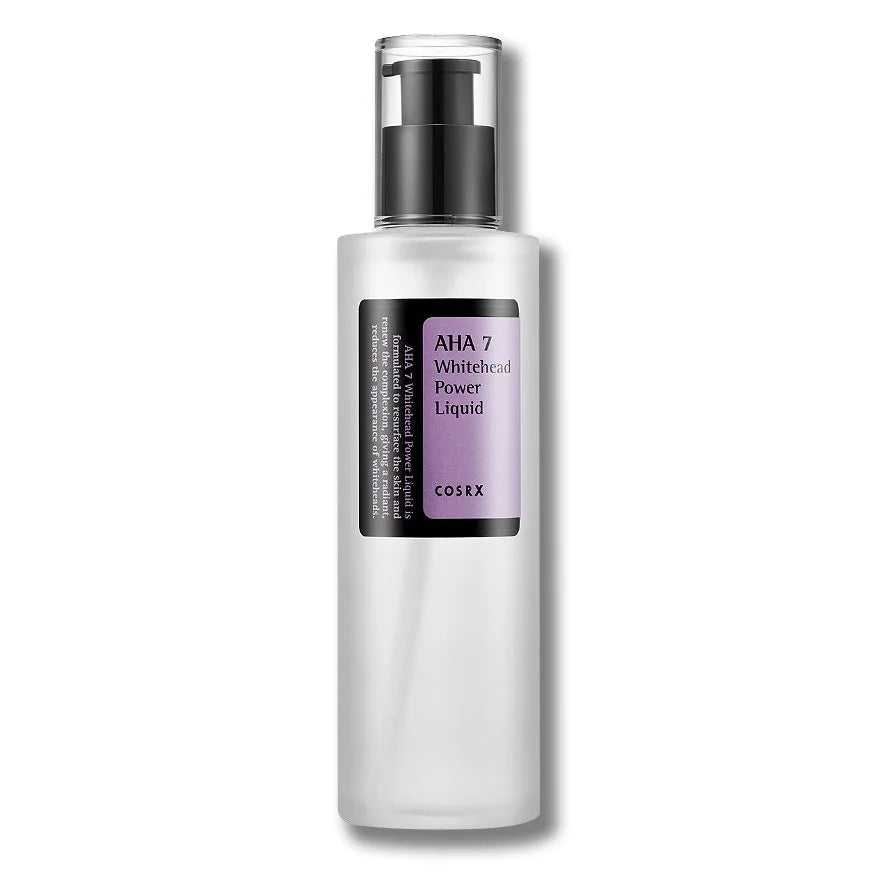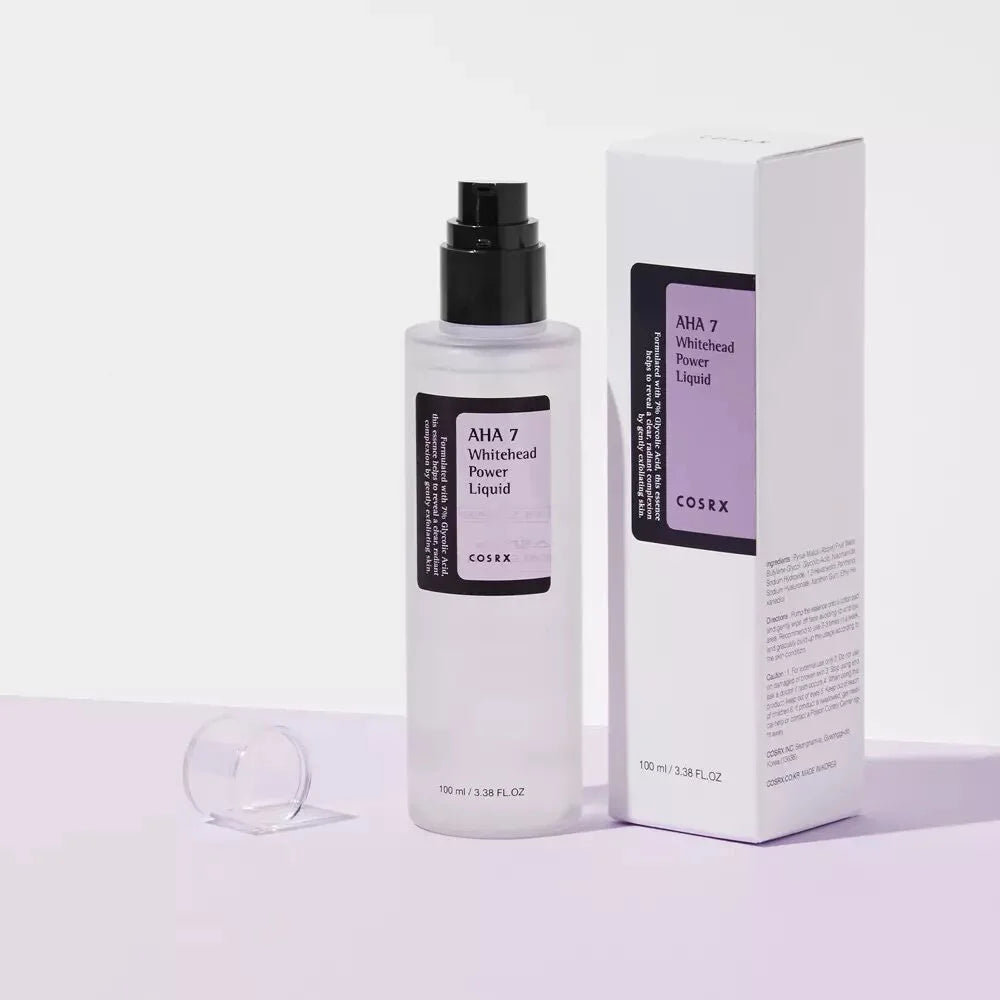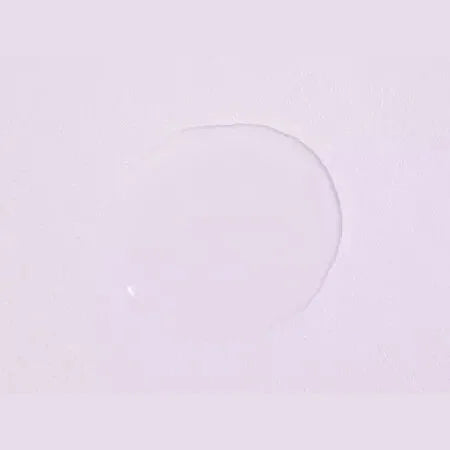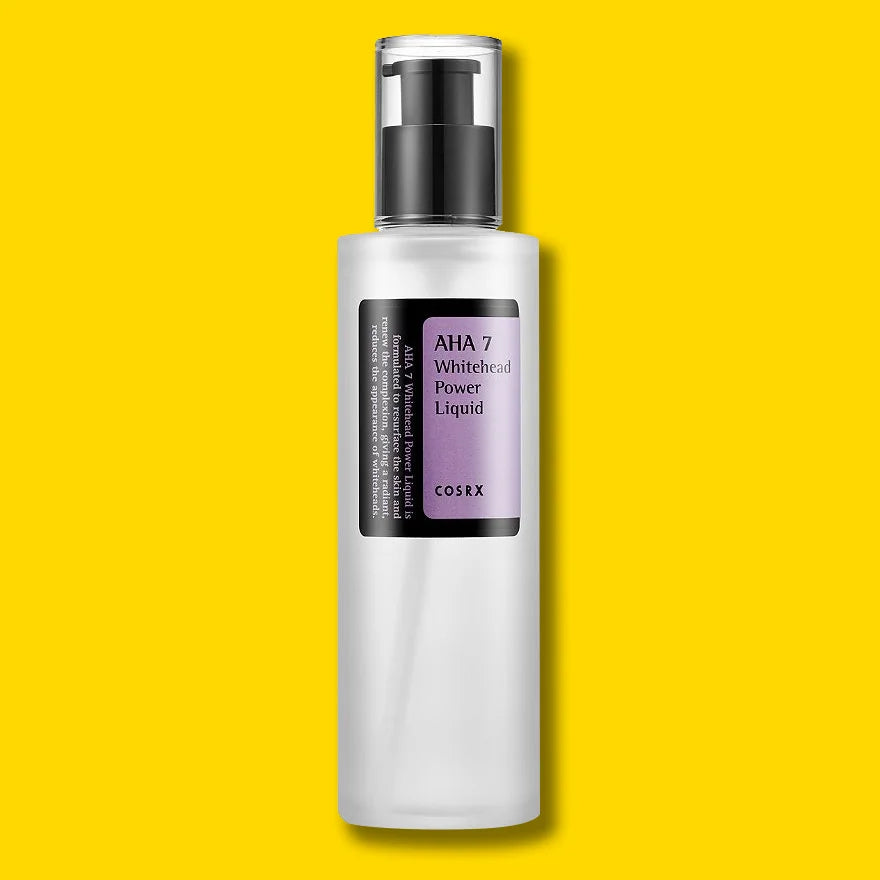 AHA 7 Whitehead Power Liquid
My first AHA product. It stung my skin at the beginning but it got better. Use it in my evening skincare routine and I notice that my skin feels much smoother, clear next morning. Now I want to try more Cosrx products :)